The new semester in KAUNO KOLEGIJA has begun with a fresh wave of international students. From the 4th to the 9th of February the Welcome Week was organized for exchange students who arrived here to spend one semester from Belarus, China, Czech Republic, Denmark, Finland, France, Germany, Greece, Latvia, Portugal, Serbia, Spain, The Netherlands, and Turkey.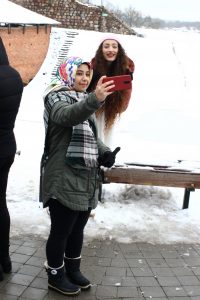 On Monday, the students got acquainted to the campus, met the Incoming Mobility Coordinator, ESN KK mentors, dealt with all the formalities, got to know each other better by playing team-building games, energizers and dancing.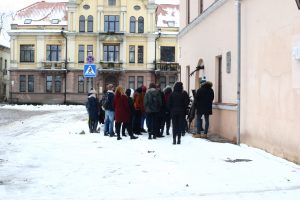 On Tuesday, the students attended a lecture on Lithuanian culture and language. They were learning how to introduce themselves, were breaking their tongues while trying to say Lithuanian tongue twisters and figured out that "ačiū" is not a sneezing sound in Lithuanian language. In the evening the students had a great chance to try fried bread, cottage cheese, kvass and other dishes popular in Lithuanian cuisine.
On Wednesday, international students enjoyed the tour around the Old Town of Kaunas. They saw the Castle, Town Hall, and other important buildings and places in the old part of Kaunas.
On Thursday, the students had a one-day trip to Vilnius. They made wishes while turning on the Miracle Tile, had entertaining tours in the dungeons of the Cathedral and in the museum of the Palace of the Grand Dukes of Lithuania. Afterwards, they had a guided tour around the old town of Vilnius and some free time to wander around the old streets.
Friday was the day at the faculties. Students met the international coordinators and the authorities of their faculties, arranged their schedules. In the evening the majority of the students attended the Welcome Party organized for all the international students in Kaunas.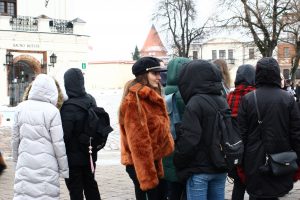 Saturday was a day with mentor, when the students had a chance to get to know their mentors better and to spend some time in an informal environment.
It has been a nice and joyful week full of new friendships, pictures, memories, trips, views. The whole semester is still ahead, but there is no doubt it will be full of adventures, incredible moments and interesting events.