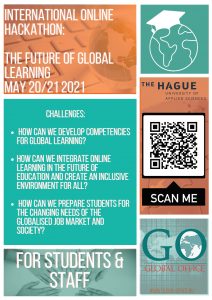 We invite you to participate in a two-day International Hackathon organised by students and staff from The Hague University of Applied Sciences on the 20th and 21st of May 2021. An online Hackathon "The Future of Global Learning" is for students and teachers and is built around 3 main challenges:
How to develop Global competencies
How to create an inclusive online learning environment
How to prepare students for a globalised job market and society
Join an online Hackathon and share your expertise, network with colleagues around the world, enjoy guest speakers and get inspired by student presentations. Let's hack these challenges together!
Register here.
For more information regarding the Hackathon, please visit this website.
For more information regarding participation, please contact the Faculty International Coordinator.