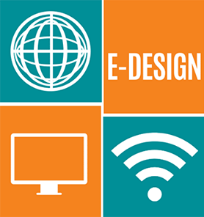 On April 7-8, 2020, representatives from Faculty of Technologies at Kaunas University of Applied Sciences, participated in the 3rd virtual partner meeting of the project E-DESIGN: European Digital Education for Social Inclusion and Global Neighbourhood (project No. 604451-EPP-1-2018-1-DE-EPPKA3-IPI-SOC-IN), carried out under Erasmus+ programme.
The purpose of the project E-DESIGN is to contribute to promoting social inclusion and combating social inequalities among disadvantaged groups, especially migrants and refugees, through strengthening their digital competences in order to enhance their labour market opportunities and social participation.
The meeting of the project partners was attended by Irma Spūdytė, Associate Professor of Media Technology Department, International Coordinator Viktorija Gudauskaitė and Communications Specialist Daiva Bukantienė. Together with partners from Germany, Portugal, Greece, Cyprus and Italy the achievements were summarized and further steps leading to the sustainability of the project results were defined. In addition, the challenges related to the global spread of COVID-19 virus were disscussed. The conference was moderated by German colleagues.
The next meeting of the project partners will be held from September 29 to October 1, 2020 in Kaunas.
More information about the project and ongoing activities can be found here.