June 20 – July 8 students from Belgium, Romania, Finland, Ukraine, Sakartvel and Lithuania participated in a mixed summer camp "Applied Cyber Security: from Theory to Practice".
Three weeks of active learning and cultural activities were crowned by the participants' final presentations, which were characterized by creativity, innovation and perspectives.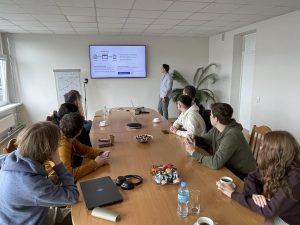 "Last week, we saw smiling faces of students, taking away knowledge, experience and ideas. Camp participants not only learned in lectures and practical sessions, but also got to know the big cities of Lithuania, Vilnius and Kaunas, and the country's culture. They spent their free time together and got to know each other better. I believe that this will contribute to a safer cyberspace around the world", says the Dean of the Faculty of Technology, Dr. Giedrius Gecevičius.
Participants had the opportunity to delve into technology changes, cyber security risk assessment, security assurance processes, solutions and monitoring, security of other threats and much more. During the summer school, classes and lectures were conducted by professional lecturers: researcher and practitioner of Francisco de Vitoria University (Spain) Robert Maxwell, as well as Accenture cyber security expert Arnaud Denis from Latvia, Kaunas College cyber security specialists Gintaras Butkus and Mindaugas Zmitruliavičius.
On the last day of the summer camp, the knowledge of the participants was confirmed by the presentation of certificates.
This camp and other international events respond to one of the main strategic goals of Kaunas College – the development and application of innovative technologies, the transfer of knowledge and its impact on the successful growth of society, as well as increasing the awareness of the country and the institution in the international arena.