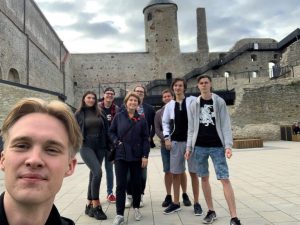 Kaunas University of Applied Sciences Tourism and hotel management students along with Latvian Vidzeme University of Applied Sciences students on August 30th – September 3rd took part in "Nordplus" project, which goal is to gain additional experience in the international study field as well as to add theoretical and practical knowledge that pertains to Tourism and hotel management and promote intercultural lecturer cooperation. 
The project trip was accompanied by lecturers Gatis Kampernovs and Jolanta Valiaugienė. During the trip, future tourism specialists were learning how to correctly choose attractions, taking in specifics of a guide profession, developing travel time planning skills and were looking for solutions out of unplanned situations. In addition, they had a pre-planned practical task – find and book accommodation and catering establishments.
Student impressions:
The first day we headed out of Kaunas. We went to Valmiera city, which is in Latvia where foreign students were waiting for us. Next we traveled to Haapsalu town, placed in western Estonia. There we checked out the Castle of Haapsalu and strolled through the old town.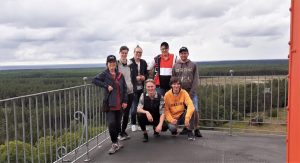 On the second day we took a ferry to the island of Hiiumaa – visited the Kallaste cliff, Eiffel, Kõpu lighthouse, Orjaku path, Hiiu beer palace. The third day we took a ferry to Saaremaa island and traveled to Kuressaare city. There we visited Angla Windmill Park where we stayed for lunch. Additionally, we checked out the Kaali crater and Kuresaare castle. Later got to know the Tallinn University of Technology Estonian Maritime Academy Centre for Blue Economy.
After that we took a walk in the old town of the city. The fourth day we payed a visit to Sorve lighthouse, Panga cliff, Pöide St. Mary's Church and a rest zone. After that, we went to Muhu island, from which we took a ferry ride back to mainland Estonia.
On the fifth day we enjoyed a tour around the city of Pärnu that was organized by the Latvian group guide, one of the best in the country, Gatis Kampernovs. He introduced us to the most important attractions and demonstrated the qualities of a professional guide.
Future tourism and hotel management specialists are happy because these types of projects are a wonderful experience that provide the opportunity to gain new understanding, apply it practically and more – it is a great motivation to learn and deepen the knowledge in tourism and realise just how much work is needed to be put in in order to become competent in this field.