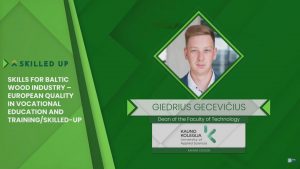 After the pandemic adjusted the pre-planned project activities, one of which was student mobility, alternatives had to be found to achieve the same results through safe means. As usual, according to the project plan, student/participant mobility had to take place, during which Lithuanian, Latvian and Estonian participants were supposed to visit each other, share experiences, visit companies and improve mutual relations. However, the quarantine adjusted these plans and it was decided to do this meeting remotely.
On May 12th, the first part of the "Skilled-up" student mobility project took place, in which the project participants, representatives of higher education institutions, associations and industry from Lithuania, Latvia and Estonia participated remotely. The conference focused on the challenges facing the timber industry in different countries, the progress of the project during the quarantine period and the necessary changes in education.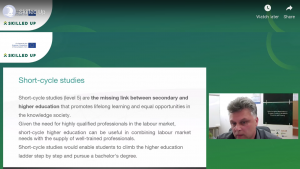 The Kaunas University of Applied Sciences was represented by the Dean of the Faculty of Technologies Dr. Giedrius Gecevičius and Vytautas Čapas, Head of the Department of Industrial Engineering, who presented the activities implemented in the project and future plans, opportunities for industrial development in Kaunas region and continuous contact between the University and industry. One of the main topics of the conference was attracting students to study in the field of wood processing not only at Kaunas University of Applied Sciences but also in neighboring countries and the need of such students for the rapidly growing wood industry.
The second part of the project conference will take place on the 19th of May. During it, true giants of the wood industry will present their insights, and participants will discuss the development of sustainability and digitization in the wood industry.
A link to the student mobility conference can be found here.
More informationa about the project can be found here.