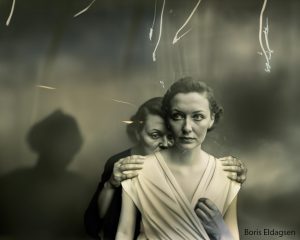 In October, the new International Photography and Media Art (IPMA) Festival starts in Kaunas. The themes of the festival's exhibitions and lectures ask about the actualised interaction of artificial intelligence and art – what is the future of these media, or maybe that future is already now? Exhibition openings and lectures will take place from 1 to 7 October, and the festival itself will last until 31 October.
Boris Eldagsen (Germany), who scandalously refused the Sony World Photography Award 2023 competition prize, will present his latest work and lectures at the festival organised by Kauno kolegija Higher Education Institution, drawing the attention of the photography community to the necessity of discussing the place of artificial intelligence in contemporary art with this controversial act.
World-renowned artists will present their work and ideas: the scandalous Boris Eldagsen (Germany), who challenged the contemporary creative community; sound and artificial intelligence artist Jukka Hautamäki (Finland); Trondheim electronic art practitioner Zane Cerpina and Stahl Stenslie (Norway) working on cognitive and perceptual manipulation projects; art expert Ornela Ramašauskaitė (Lithuania); researcher Dalia Mikonytė (Lithuania), member of the artist group Cooltūristė; Minister of Culture and Innovation of the Republic of Užupis, inventor Gleb Divov (Lithuania); photographer, designer, lecturer Vėtrė Antanavičiūtė (Lithuania) and many others.
The festival will include not only expositions, but also educational and discussion activities – active listeners are invited to workshops and lectures. Today, the statement is often heard that "photography is dead" due to new technologies, "photographers are no longer needed" – but in the context of this festival, the spectrum of photography and other media dimensions and new possibilities may surprise you.
The festival programme can be found on the official website: www.ipmafestival.lt. The exhibitions will be exhibited in the Temporary M. K. Čiurlionis Art Gallery, in the exhibition spaces of the National Kaunas Drama Theater, in the lobby of the Romuva cinema centre; lectures will take place in the amphitheatre of the Žalgiris arena and in the premises of the M. K. Čiurlionis National Art Museum.