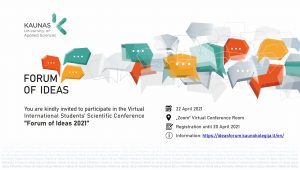 Faculty of Arts and Education of Kaunas University of Applied Sciences invites You to the 18th international scientific students' conference "Forum of Ideas 2021", which will take place on April 22nd on the "Zoom" platform. The aim of the conference is to improve students' scientific / artistic competencies by exchanging ideas of practical scientific / artistic activities and promoting the development of networking.
Directions of conference:
expression of creativity in design and art;

aspects of aesthetics and philosophy of art;

problems of pre-school and pre-primary education;

topicalities of linguistics, translation, and language teaching/learning;

achievements of and insights into technology and business;

creative searches and discoveries in virtual art exhibitions.
Registration is open until April 20th.
You will find all useful information on the official website of "Forum of Ideas 2021".
Conference languages: Lithuanian, English.