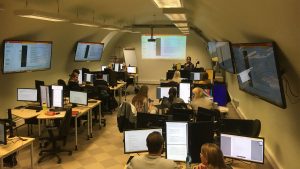 Intensive course Healing gardens 2019 started in Laane-Viru College (Estonia). Students and teachers from Kauno kolegija (Lithuania), Savonia University of Applied Sciences (Finland) and Laane-Viru College (Estonia) gathered together to discuss about application of Green Care concept in work with elderlies.
Green care is the use of agricultural farms and the biotic and abiotic elements of nature for health and therapy-promoting interventions as a base for promoting human mental and physical health, as well as quality of life. The aim of the course is to enhance cooperation between social work, landscape design and agricultural technologies fields in order to develop team work skills, creative thinking and entrepreneurial competences and to provide better opportunities in labour market through encouragement interdisciplinary approach and international cooperation. Students from social work will get knowledge about development and creating of healing gardens or smaller green care areas during the lectures of specialists and teachers from partners' institutions and agricultural/landscape design specialties students will become familiar with therapeutic value of gardening. Lectures, workshops and group work are followed by visits to elderly homes and social service providers.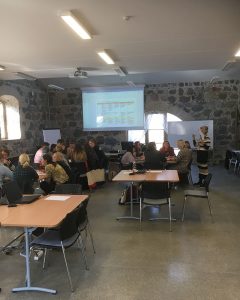 Intensive course started on Monday, 08-04-2019 and until Friday, 12-04-2019 students will develop projects of Green Care settings for elderly home and will present their ideas during open session.
Intensive course is part of Nordplus Higher Education project Healing Greenery No. NPHE-2018-10257 which is coordinated by Faculty of Technologies, Kaunas University of Applied Sciences.
The Estonian press talks about this project too – click here.
Povilas Beseckas, project coordinator