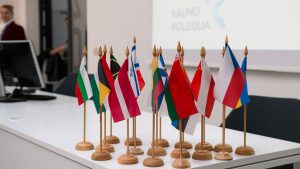 On April 19-23, representatives of Kaunas University of Applied Sciences will participate in the international event UAccesS Staff Week organised by the HM Hochschule München University of Applied Sciences UAccesS international network of university partners. In this event representatives of 6 European universities from Finland, Netherlands, Spain, Romania will participate. Participation in this virtual event will help strengthen international cooperation, get to know foreign higher education institutions better, provide an opportunity to share ideas and contribute to the implementation of one of the most important priorities of Kaunas University of Applied Sciences in the 2021–2025 Strategy – increasing internationality.
"I believe that participation in the meeting of this partner network proves the international recognition of Kaunas University of Applied Sciences as an equal partner, and the active involvement of representatives will contribute to closer cooperation and development of joint activities," says Jolanta Valiaugienė, Head of International Relations.
J. Valiaugienė also reveals that Kaunas University of Applied Sciences actively seeks to join the European Universities Initiative and become a part of such an alliance. Joining this alliance would enable students to gain academic degrees by combining their studies in several EU countries, strengthen strategic partnerships with other higher education institutions, enable students, academics and external partners to work together in interdisciplinary groups to address the major challenges facing Europe today.