The sharp increase in consumerism and its consequences is probably one of the most acute problems of our time. Experts are constantly reminding us that if we do not act and continue to follow the "buy-use-throw out" principle, the damage to nature can be irreversible.
In order to contribute to the solution of this problem, Kaunas University of Applied Sciences has singled out sustainability, which is emphasized both in the strategic provisions of the university, in its practice and in the implementation of activities, as one of the key principles of its activities, thus paying attention to the problem and finding ways to solve it.
The topic of sustainability is integrated into studies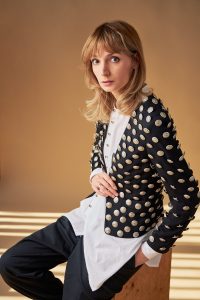 Olesia Les-Daškevičienė, a lecturer at Kaunas University of Applied Sciences, Faculty of Arts and Education, who became interested in sustainable fashion back in 2011, when she did an internship in London, reveals that while teaching at the university she not only sees students' growing interest in sustainability – this topic is also integrated into the Fashion Design study programme. The aim is to draw the attention of young professionals to this global problem and to encourage them to look for possible solutions during their studies.
"Not only do I notice students' interest in sustainable fashion – we include it in the study programme! Students are introduced to the directions of sustainable fashion, they perform practical tasks, insert sustainability ideas into final theses. It is vital that they, as the future of the fashion industry, would know and have the tools to make a difference through creativity," says O. Les-Daškevičienė.
Everyone can make more sustainable decisions, most importantly – they have to be  interested
O. Les-Daškevičienė points out that some people still consume irresponsibly, without thinking about the consequences, and reminds that we can each contribute to reducing pollution.
"On a daily basis, people have done and are doing so much damage to their own home – the Earth – that changes are inevitable. The fashion industry is the second most polluting, and in it, more than anywhere else, each of us has the power to change something. Will we sit with our hands folded? For what reason? For a comfortable habit to buy unnecessary things and generate millions for someone at the expense of your planet?" asks O. Les-Daškevičienė.
The designer also encourages interest in sustainability ideas, the search for information and the discovery of mutually acceptable ways to contribute to the reduction of environmental pollution.
"The basis of everything is education. Let's read, take an interest, broaden our horizons and choose the most acceptable way out of all the masses of information. There are so many directions for sustainable fashion: the abandonment of fast-fashion products – this solution is changing the industry in several ways: from aggressive fibre growing and processing processes to inhumane exploitation of industrial workers; renewing or repairing defects to avoid discarding the garment; responsible care of clothes to last longer, and so on. Surely everyone can start the change today," O. Les-Daškevičienė, who presented her first sustainable clothing collection 8 years ago, shares advices.
The lecturer welcomes the fact that sustainability ideas are already changing the fashion industry, designers choices and consumers behaviour, and hopes that in the future, sustainable choices will become commonplace for an even larger part of society. She also notes that sustainable fashion is becoming more and more established in Lithuania.
"Sustainable fashion is definitely becoming more and more relevant in Lithuania as well. In an article for the "Moters savaitgalis" magazine, I wrote that 20 years ago, second-hand clothing stores were a shameful place to shop, 10 years ago, renewed clothing aroused interest, but it wasn't bought, and today we call it all vintage, we are hunting and longing for it. Lithuanians are becoming more and more secular, so the idea of ​​sustainability is spreading to us quite quickly," says O. Les-Daškevičienė, who recently presented a sustainable fashion project – a mini collection "Kavalieriai".
The collection "Kavalieriai" created by O. Les-Daškevičienė can be found here.
More information about the Fashion Design study programme can be found here.