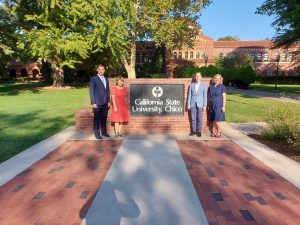 In October, Chico State hosted visitors from Kauno kolegija Higher Education Institution from Kaunas, Lithuania. The visit was arranged by Matthew Stone, Associate Professor of Marketing, and was supported by the EU Erasmus+ mobility program.
Jolanta Valiaugienė, Head of International Relations
Dalia Ilevičienė, Dean, Faculty of Business
Dr. Andrius Brusokas, Head of Tourism and Leisure Management Department
Innovations in business education were a focus of the visit which included meetings with Associate Dean Suzanne Zivnuska, Marketing Chair Damon Aiken, Seufferlein Sales Program Director Tom Villa, and Jaycob Arbogast, Director of Center for Excellence in Finance. Kauno kolegija Higher Education Institution's delegates also met with Dr. Jennifer Gruber, Provost Deb Larson, Dean Angela Trethewey, and Dr. Morgan Geddie from the College of Communication and Education.
Besides the campus meetings, the Lithuanian delegates were able to sample life in Chico with trips to Bidwell Park, the Saturday Farmers Market, a tour of Sierra Nevada Brewing, a visit to New Clairvaux Vineyard, and a tour of Golden1 Center in Sacramento.
"Our visit to Chico State was very well prepared and included meetings and discussions with academics and administrators who gave a clear picture of Chico's involvement and achievements and the possibilities for further cooperation," said Jolanta Valiaugienė. "We also enjoyed visits to places of interest which represent the region and allowed us to experience local tastes and culture."
Stone was first invited to Kauno kolegija Higher Education Institution when he was a Fulbright Scholar in Helsinki, Finland in 2019. Since then, the relationship has grown. He has twice received grants from a Lithuanian government to bring in international experts to share their expertise by guest lecturing in classes in the Faculty of Business.
In November, Stone visited Kauno kolegija Higher Education Institution and lectured on services marketing, branding, hospitality and tourism marketing, and management. He also had the opportunity to visit Birštonas.
"Lithuania is a hidden gem in Europe," Stone said. "As a food tourism researcher, I am always drawn to food and drink, but I also loved visiting the capital of Vilnius and the beautiful countryside. Last year, Kaunas was the European Capital of Culture, so it was wonderful to participate in some special events, including a show of contemporary art from Ukrainian artists and an opening reception at Kauno kolegija Higher Education Institution's historic art building on top of Owl Hill."
Chico State signed a Memorandum of Understanding with Kauno kolegija Higher Education Institution on November 30, which opens up more opportunities for international collaboration, including collaborative online international learning (COIL), research partnerships, and student and faculty mobility.