This year, on June 9th, the event of the Kaunas Chamber of Commerce, Industry and Crafts was organised: the most worthy and successful members of the Chamber community of 2021 were acknowledged. Kaunas University of Applied Sciences was nominated and awarded for "Significant Contribution to Society 2021". The organization was recognized for the development and implementation of social responsibility initiatives, the development of charitable activities, providing support for culture, art, sports, and the preservation of community traditions and heritage.
"This award is an appreciation and recognition of an institution that makes a significant contribution to society. The evaluation of daily consistent and hard work is the greatest achievement that we want to cherish with the entire community of Kaunas University of Applied Sciences," says Paulius Baltrušaitis, the director of Kaunas University of Applied Sciences.
Director P. Baltrušaitis notes that this award was presented to Kaunas University of Applied Sciences for supporting community traditions, heritage preservation, reducing social exclusion, organizing the annual traditional event "Volunteer's Day", providing free psychological assistance to community members, implementing tolerance initiative "Respect and Support". In addition, the charitable activities of Kaunas Univers
ity of Applied Sciences were noticed and evaluated by CCIC: the areas of the Sports, Library and Centre of Information Resources are open to the public community, as well as the traditional annual event "Wh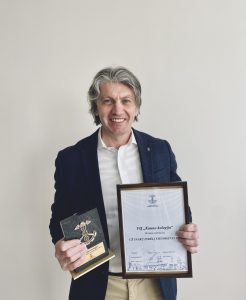 ite Angel", during which financial support for community members in need, charity lunch for premature babies, a blood donation campaign are organised. The activities carried out by the Faculty of Arts and Education of Kaunas University of Applied Sciences make a significant contribution to the fostering of culture and art: the artists' summer camp – Plein Air, international events, and exhibitions.
CCIC is the largest organization that brings together the business community of Kaunas and Marijampolė regions and develops services for business. It represents the general business interests, defends the interests of members, provides services, and carries out project activities, delegated functions of the state.
CCIC unites 689 companies in Kaunas, Kaunas district, Marijampolė, Kėdainiai, Jonava, Kaišiadorys, Raseiniai, Prienai, Birštonas, Šakiai, Vilkaviškis, Kazlų Rūda and Kalvarija municipalities. Every year, about 2,500 Lithuanian companies use the services of the Chamber.