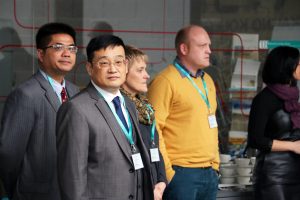 The 7th International Conference "Innovative (Eco-Technology, Entrepreneurship and Regional Development" (IECOTERD) will be held on 12 October, 2021 online.  Conference is hosted by Kaunas University of Applied Sciences (Lithuania). 
The main goal of the conference is to promote scientific discussion and share ideas about technological innovations, eco-innovations and technology-based entrepreneurship as drivers for economic growth and social change in regions. Particular attention will be given to green technology and sustainable development.
Sub-topics of the conference are as follows:
innovative technologies, innovative cities and regions;

(eco-)technological innovations (renewable energy, eco electronics, healthy nutrition, body ecology diet, etc.) and change in a region;

good practice of technology-based entrepreneurship (adoption of innovative technologies for company, industry development in a region), and

fostering traditional culture and crafts with the purpose to improve the socioeconomic well-being of  people in the regions.
The online registration to the conference is open. To proceed with online registration, click here. 
The participants of the conference have to pay a registration fee. The registration fee  includes:
opportunity to deliver the presentation (10 min for presentation and another 5 min for discussion);

opportunity to publish an abstract in Conference Book of Abstracts (1 page);

opportunity to publish paper up to 10 pages in length in the relevant journal of IECOTERD;

certificate of  attendance;

admission to all sessions of the conference.
The fee is paid only when registration is approved. 
Early-bird Registration

(until 12 May, 2021)

Late Registration 

(after 12 May, 2021)

Participant 

45 EUR

60 EUR

Attendance only 

(no presentation or publication)

30 EUR

40 EUR
Articles for the publication in the conference e-proceedings should be prepared by using APA (American Psychological Association) citation style and submitted online alongside with the author/authors warranty before 12 June, 2021.
Important dates
Registration and abstract submission deadline

till 12 May, 2021 

(early bird registration)

after 12 May, 2021 

(late registration)

Paper submission and Conference fee payment deadline 

12 June, 2021

Preliminary conference programme

12 June, 2021

Conference

12 October, 2021
For more information, please, contact by e-mail iecoterd.conference@go.kauko.lt.