This autumn, Kaunas welcomes students with a prettier exterior, some changes and a handful of kaunastic experiences. What does the word kaunastic means, you ask? It's fantastic, only better. Inspiring activities, unique cultural experiences, bold works of street art, extraordinary tastes, refreshing nature, historical architecture of interwar modernism, optimistic approach of Kaunas residents and so much more. We invite you to get inspired and explore Kaunas.
#kaunastic views
The iconic selfie will receive many Likes and Shares, and we know the best places to snap an amazing Instagram pic: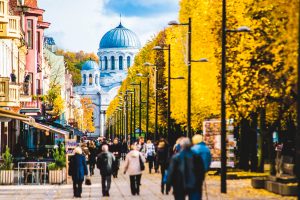 1. Inscription ŽALGIRIS placed next to Žalgiris arena not only looks stunning during the sunset but also reminds the taste of excitement experienced during Euroleague basketball games (address: Karaliaus Mindaugo pr.50).
2. The birth of the Pink elephant graffiti was inspired by the writing on the wall – Deima + Arunas. Love conquers all — even scepticism towards graffiti — isn't it right? (address: E. Ožieškienės g. 18A).
3. Vienybė square, a newly refurbished public area in the heart of Kaunas invites anyone who wants to enjoy a few spare minutes outside or have a friendly chat.
4. Aleksotas observation point is one of the best places to fall in love with the panoramic views of Kaunas. It's convenient to reach it by the funicular, the vintage and very trendy means of transportation in Kaunas (address: V. Čepinskio g.).
5. A bronze statue, the Man, (by sculptor P. Mazuras) with his arms stretched out attracts stares by many. The sculpture symbolizes the beauty of the man's soul and body, and at the same it welcomes all with his open arms (address: Nepriklausomybės a. 12).
6. Yard gallery was created by an artist Vytenis Jakas more than a decade ago with a goal to bring its neighbors together. Now it grew to be the most colourful open-air gallery in Lithuania (address: E. Ožeškienės g. 21A).
7. A special atmosphere filled with jazz, coziness and colourful retro interior awaits you in Chaika caffee (address: M. Daukšos g. 27).
8. Modern yet experiential design of the hotel Moxy encourages everyone to nap a pic in its bar-lounge (address: Maironio g. 19).
9. The list would not be complete without the iconic and legendary Kaunas castle! Built in the 14th century for defense against the crusaders it is one of the oldest stone castles in Lithuania. A settlement grew into the current Kaunas city we all know today (address: Pilies g. 17).
Don't forget to tag your adventures in Kaunas with #kaunastic!
#kaunastic discoveries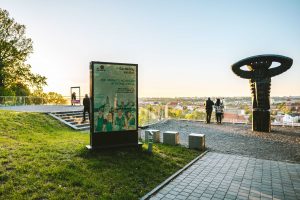 For those who're into breaking their steps-of-the-day records, we offer several routes – nature trails, or, as we call them in Lithuania, cognitive trails. Let's go for a walk!
Here in Kaunas we say "Like bike" and often go around refreshing and captivating landscapes of the city with the bike. Ride like a true Kaunas citizen!
No matter if you're into yoga or basketball, a runner, or a swimmer, you can practice all of the above, and more, while staying in Kaunas. Stay fit!
Gliding with clouds, cognitive diving or a rope jump – all these fun activities can be found in our city. Receive an adrenaline rush!
#kaunastic tastes
If you are bored with the usual vanilla or chocolate flavours, chefs can offer you inventive pink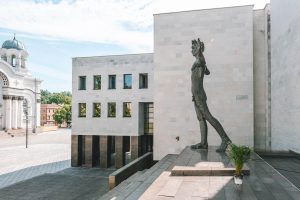 peppercorn ice-cream and beyond. Taste it!
Whether you are looking for Eggs Benedict with brioche bread and hollandaise sauce, some pancakes, a mimosa or just a double espresso – Kaunas offers something close to the receptors of every taste. Explore!
#kaunastic weekend
More than twenty free of charge thematic tours reveal the most beautiful sides of Kaunas. From its historic gems to its vibrant culture. See the guides online or visit Kaunas Tourism Information Center at Rotušės a. 15, where you will receive all the tips for an awesome adventure.
More #kaunastic discoveries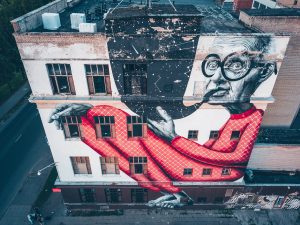 You can find all the latest traveling news on the website https://visit.kaunas.lt/en/. Also, don't forget to follow @kaunastic on Facebook and Instagram.
Kaunas is bursting with culture any given day but it will reach the whole new level in 2022 when the city will become European Capital of Culture.
Be a tourist in your city!
Kaunas IN information.
Author of the photographs: A. Aleksandravičius, Kaunas IN.