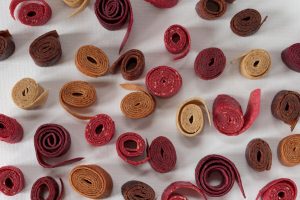 Student Sem Hansen from Leuven Limburg University (UCLL, Belgium), who arrived under the Erasmus+ exchange programme from February to June, carried out research on the topic "Confectionery production – fruit pastilles without added sugar" in technology, food safety and quality research laboratories in Kaunas at the Department of Food Technology, Faculty of Technologies, Kaunas University of Applied Sciences (KUAS).
Pastilles candies of various types and production technologies were produced: traditional apple cheese-based, with the addition of egg white, with juice and various hardeners, and whipped egg masses with apple puree and sugar syrup (zephyrs). Technological tests showed that zephyr production is not possible without sugar or sugar substitutes.
Sensory analysis studies were performed on all types of pastilles. Moisture, ash content, caloric content, texture, etc. tests were performed for the best-evaluated candy types and analyzes were performed by interpreting the obtained results.
The various types of sweets matched the safety requirements and were microbiologically safe. Based on the glucose changes in capillary blood test, the obtained results showed that the pastilles without added sugar are more suitable for healthy and type II diabetic volunteers.
Sem Hansen, a student of the Chemistry study programme, was consulted by Dr. Ingrida Kraujutienė (KUAS) and doc. Annemie Froyen (UCLL) successfully completed his thesis and on 21 June he defended him in the Professional Bachelor's Thesis Oral Defense Committee.
We hope that the cooperation between Kaunas University of Applied Sciences (KUAS, Lithuania) and Leuven Limburg University (UCLL, Belgium) will be continued on the basis of the Erasmus+ exchange programme for students and lecturers and by participating in other international project activities.
More information about studies at Kaunas University of Applied Sciences can be found here.