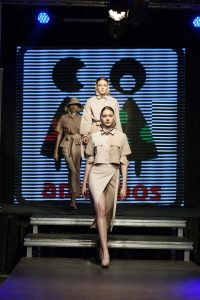 The show  "Apkalbos 2021", organised by the Academy of Arts of Kaunas University of Applied Sciences, has been taking place for more than two decades and has brought up several generations of designers and popularised fashion culture. Young fashion designers from Lithuania, Latvia, the Czech Republic, Turkey, Portugal and other countries present their collections at the show every year. In response to the pandemic situation, the show changes its format – "Apkalbos 2021"  is transformed into a fashion film this year.
Young fashion designers are invited to record their original collections and send the footage to stella.kasperavičiene@go.kauko.lt by 15 May, indicating: name, surname, the title of the collection and institution of training.
Footage requirements:
film duration: 120 -150 seconds;
resolution: minimum 1920 x 1080 24 fps or 4060 x 2160 24 fps.
The aim of the organisers of "Apkalbos"  is to hold a gourmet fashion show for the inhabitants and guests of Kaunas city, and at the same time to promote fashion as an art form, to showcase the work of young fashion designers, and to discover new talents.
Follow information about the Fashion Show "Apkalbos 2021" on Kaunas University of Applied Sciences website.