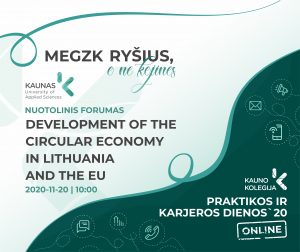 According to 2017 "Eurostat" data, the average EU circularity rate was 11.7%, while in Lithuania it was only 4.8%. This shows that Lithuania, like other Eastern European open economy countries, often tends to go by linear production and consumption. Is waste recycling just halfway to the peak of circular economy?
On Friday, 20th of November (from 10:00 a.m.) during the virtual forum "Development of the Circular Economy in Lithuania and the EU" attention will be paid to this topic. The forum will be held English.
Experienced representatives of various higher education institutions and businesses will share their thoughts in this virtual forum. Hague University of Applied Sciences lecturer dr. Kim Poldner (Netherlands) will give a more detailed report on the case of the fashion industry based on the circular economy principle. Mr. Gediminas Judzentas, a representative of the organic agricultural company, organic food producer "AUGA group", will introduce how the principles of the circular economy are implemented in this company. Ms. Karolina Kužmarskytė, a representative of the Lithuanian Innovation Center, will answer the question about how the European Union is moving towards a circular economy. Prof. Dr. Žaneta Stasiškienė, Director of the Institute of Environmental Engineering, Kaunas University of Technology, will talk more about the integrated model of the circular economy principle. Ms. Vaiva Najūtė, a representative of the Public Institution "Užstato sistemos administratorius" (their activity is to perform the functions of the administrator of the deposit system as provided in the Law on Packaging and Packaging Waste Management), will introduce effective circular economy measures, such as the deposit return system.
At the end of the forum, there will be time for questions and answers and some time for discussion – we invite members of higher education institutions and business organizations to participate actively!
Forum "Development of the circular economy in Lithuania and the EU" is a part of the cycle of events "Practice and Career Days`20" organized by Kaunas University of Applied Sciences. The aim of the forum is to educate the academic community and the business sector by reviewing research results in the context of implementing the circular economy and its impact on business. The forum is organized by Business Centre of the Business Faculty of Kaunas University of Applied Sciences.
Login information for the remote forum will be sent after registration.
Register here.