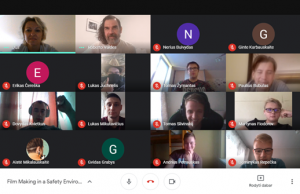 On september 28th – october 20th, 2020, a professional filmmaker under the "Erasmus+" program visited Kaunas University of Applied Sciences – Roberto Valdes Tena. He carried out lectures for students of Multimedia Technology and Graphic and Digital Media study programs of the Faculty of Technologies about creativity, graphic design and filmmaking nuances under the pandemic conditions.
The lectures given by R. Valdes Tena, who was visiting Lithuania for the third time, was an integral part of study programs like graphic design, video and audio technologies and media market and technologies. These study activities provided students with valuable knowledge from an experienced and deserving filmmaker.
R. Valdes Tena is a Mexican origin filmmaker, producer that has finished his studies in an internationally known New York Film Academy, which closely cooperates with "Universal Studios" and "Warner Bros" film studios. With his work, R. Valdes Tena has participated in international movie festivals in Spain, Italy, France, Canada, China and other countries as well as won multiple awards.
Associate Professor of the Department of Media Technologies Dr. Irma Spūdytė, who initiated the visit, says that activities carried out by the professional film maker encouraged students to express interest in movie history and the most recent movie tendencies, motivated to look for unconventional solutions while writing scripts or looking for movie scene filming locations. Dr. I. Spudytė also unveiled that R. Valdes Tena, along with a few other students, were creating a film commercial with a script, created by students themselves. These kinds of activities were an opportunity for students to learn from a professional of his craft as well as improve their practical skills.